Product descriptions are an important part of any ecommerce website. They are what sell your products and convince customers to buy from you. But how do you write them?

Here are a few tips:
1. Keep them short and to the point- customers don't want to read a novel about your product.
2. Use persuasive language- make sure your descriptions are convincing and make use of powerful words that'll make the customer want your product.

3. Use rich media- images and videos help bring your product to life and can be really helpful in getting across complex information quickly.
4. Be unique- with so many businesses selling online, it's important that you make your product descriptions stand out from the rest. This could mean using humor or a different tone than what's commonly used in your industry.
The first step is to know your audience
You need to write your product descriptions with a specific customer in mind
This will help you determine what information to include and how to present it in a way that appeals to your target market
The second step is to make sure your product descriptions are clear and concise
They should be free of any grammar or punctuation errors, and they should get straight to the point
Use active voice and avoid using jargon or technical terms that your customers might not understand
The third step is to highlight the features and benefits of your product
Your potential customers want to know what makes your product unique and why they should buy it from you instead of the competition
Be sure to address these points in your product descriptions
The fourth step is to use persuasive language throughout your descriptions
You want potential customers reading your descriptions to feel like they absolutely need to have your product in their lives
Use powerful words that evoke emotion and paint a picture of how using your product will make their life better
E-Commerce: How to Write Good Product Descriptions That SELL
How to Write Product Descriptions That You are Asked to Sell?
Assuming you are referring to online product descriptions: The best way to write product descriptions that sell is by using persuasive language and focusing on the benefits of the product. You want to make sure you capture the reader's attention and give them a reason to buy the product.

Some tips for writing persuasive product descriptions: – Use strong, actionable words – Focus on the benefits, not just the features

– Address the needs of your target customer – Use images and videos to supplement your text
What are the 9 Tips of Writing Product Description?
A good product description should:
1. Be well-written and free of grammar and spelling errors
2. Be clear and concise

3. Use persuasive language to sell the product
4. Highlight the features and benefits of the product
5. Use positive superlatives sparingly

6. Include customer testimonials and reviews, if available
7. Address any possible objections a customer might have 8. Use keyword-rich phrases to help with search engine optimization (SEO)

9. Be unique – do not copy other descriptions verbatim
What Should I Write for My Product Description?
Assuming you would like tips for writing product descriptions:
1. Keep it short and sweet- customers don't want to read a novel about the product they're interested in. Get straight to the point and give them the information they need without overloading them.

2. Be specific- tell customers exactly what they can expect from the product, what it's made of, how it works, etc. The more details you can provide, the better equipped potential buyers will be to make a purchasing decision.
3. Write with SEO in mind- including relevant keywords throughout your description will help improve your ranking on search engines and draw organic traffic to your listing.

4. Use persuasive language- rather than simply listing features of the product, focus on how those features will benefit the customer. Why should they care about this particular product? 5. Highlight what makes your product unique- if there's anything that sets your offering apart from similar ones on the market, be sure to mention it!

This could be anything from a patented feature to sustainable materials used in production.
What is Product Description Example?
A product description is a short, written piece of content that describes what a product is and what it does. A product description should be clear, concise, and easy to read. It should also be void of any fluff or filler words.

When crafting a product description, think about what would make you want to buy the product. Write from the perspective of why the product exists and how it can solve someone's problem. Be sure to use keyword-rich language so that your product appears in search engine results when potential customers are looking for products like yours.

Here's an example of a well-written, keyword-rich product description: The Snuggie™ is the world's most popular blanket with sleeves! It's ideal for reading books, watching TV, working on your laptop, or just lounging around the house.

The Snuggie™ keeps you completely warm and gives you the freedom to use your hands while being cozy and comfortable all at the same time!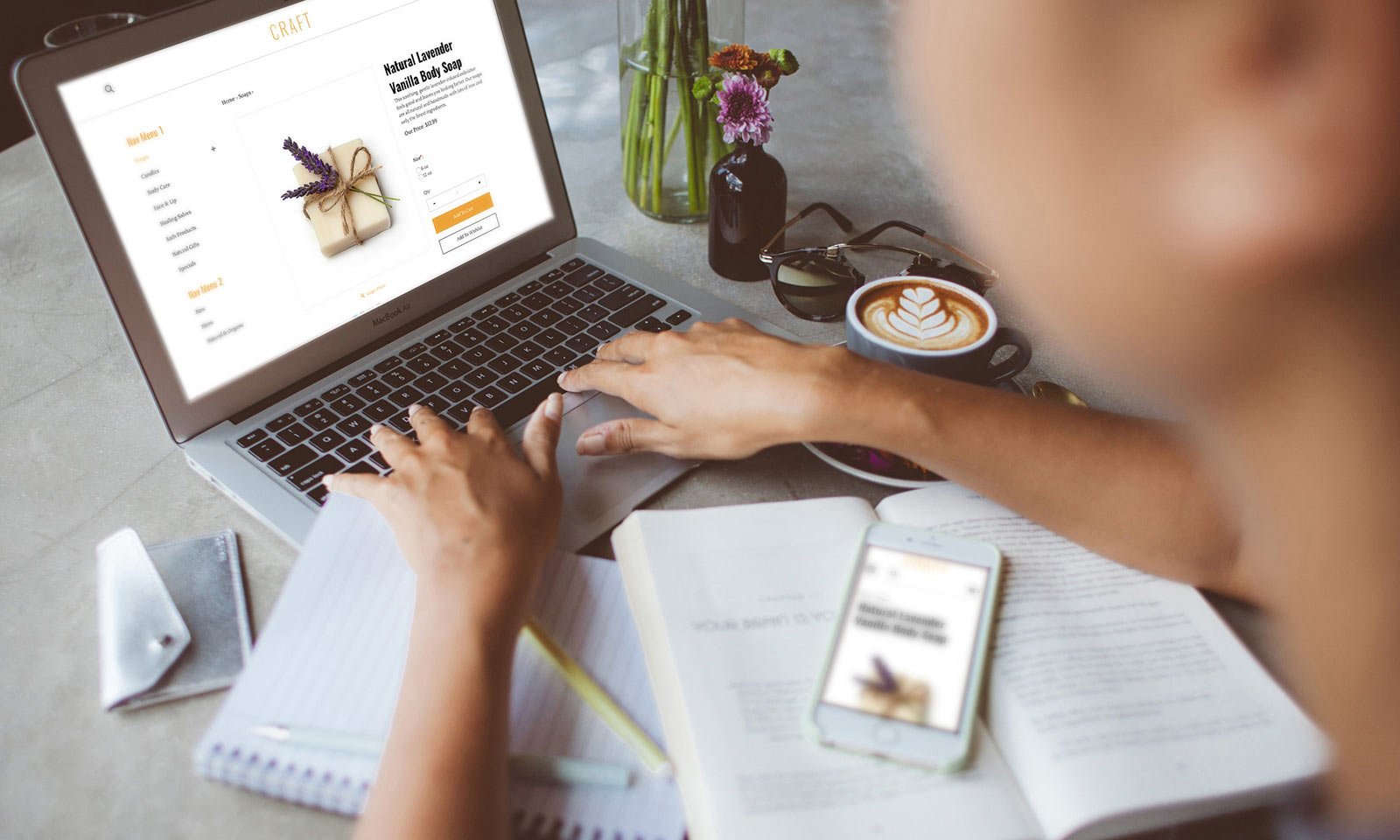 Credit: www.volusion.com
Product Description Generator
Looking to take your online business to the next level? A product description generator can help! This type of software creates descriptions for products that are both accurate and eye-catching, making it easier for customers to find what they're looking for – and more likely to purchase from you.

There are a number of different product description generators on the market, so how do you choose the right one? Here are some things to keep in mind:
1. Ease of use: You want a tool that's easy to use, so you don't waste time struggling with complex features or formatting.

Look for a generator with a user-friendly interface.
2. Accuracy: Make sure the descriptions generated by the tool are accurate and error-free. The last thing you want is for customers to be turned off by inaccurate information.

3. Flexibility: Find a generator that allows you to customize descriptions according to your needs. That way, you can ensure that each and every description is perfect for your products.
Product Description Writing Examples
Product descriptions are a key part of any ecommerce site, and can make or break a sale. A good product description will provide enough information to educate the customer about the product, without being overly long or complex. It should also be written in a way that is persuasive and convinces the reader to buy the product.

To help you write effective product descriptions, we've put together some tips and examples. When writing your product descriptions, be sure to: -Include all relevant information about the product

-Use language that is both informative and persuasive -Avoid making claims that cannot be backed up – proofread your work for grammar and spelling errors

Here's an example of a well-written product description: The Canon EOS Rebel T6 Digital Camera is perfect for anyone who wants to photography enthusiasts who want to step up from their phone cameras. With its 24.2 megapixel CMOS sensor and DIGIC 4+ Image Processor, it captures stunning images with detail and clarity.

The EOS Rebel T6 also has built-in Wi-Fi connectivity so you can share your photos on social media easily.
Product Description Writer
A product description writer is a copywriter who creates compelling, persuasive, and interesting descriptions of products for online and offline retailers. This includes writing product titles, Meta descriptions, and complete product descriptions. A good product description writer will have excellent copywriting skills, be able to write to different audiences, and understand how to optimize their work for search engines.
Product Description Template Free
A product description template free can be a very useful tool when you are creating descriptions for your products. This type of template can help you to create a professional looking description without spending a lot of time on it. There are many different types of templates available online, so you should be able to find one that fits your needs.

When you use a product description template free, all you need to do is fill in the blanks with information about your product. The template will provide you with everything else that you need in order to create an effective description. You will want to include things like the benefits of your product, what makes it unique, and why people should buy it.

All of this information will help to sell your product and make it more successful. If you are not sure how to use a product description template free, there are plenty of tutorials available online that can show you how. These tutorials will walk you through the process step by step so that you can get started right away.

After you have created a few descriptions using the template, you will be able to see how easy it is and how much time it can save you.
Products And Services Description Example
As a business owner, you know that describing your products and services is essential to selling them. After all, potential customers need to know what they're buying! Unfortunately, many business owners get so caught up in the day-to-day operations of their businesses that they don't take the time to really think about their product and service descriptions.

As a result, their descriptions are often bland and uninspiring. If you're struggling to write compelling product and service descriptions, don't worry – you're not alone. To help give you some inspiration, we've put together a list of examples of great product and service descriptions.

Use these as a starting point for creating your own winning descriptions! Product Description Examples:
1. "Our luxury car rental service offers the perfect way to travel in style. With our fleet of top-of-the-range vehicles, we can cater to any taste or budget."

2. "Looking for the perfect gift? Our online store stocks an unbeatable range of unique present ideas."
3. "Want your home to look its best? Our professional cleaning services will leave your property sparkling from top to bottom."
Description of Products Or Services Shopify
Shopify is a platform for businesses of all sizes to create an online store. It offers users a customizable platform, an easy-to-use checkout process, and a wide range of features. Shopify also provides users with 24/7 support and a 14-day free trial.
Conclusion
Product descriptions are an essential part of any ecommerce site or product page, yet they are often overlooked by store owners. A great product description can mean the difference between a sale and a bounce. Crafting good product descriptions is both an art and a science, but there are some basic rules that all ecommerce entrepreneurs should follow.

Here are four tips for writing better product descriptions:
1) Write for your audience first and foremost: It's important to remember who you're writing for when crafting your product descriptions. Keep in mind the needs and desires of your target customer as you write copy that speaks to them directly.

2) Use natural language: The best product descriptions sound like they were written by a real person, not a robot. Be sure to use natural language throughout your copy, without keyword stuffing or other gimmicks.
3) Highlight the unique selling points (USPs): What makes your product special?

Why should someone buy it from you instead of the competition? Be sure to highlight the unique selling points of your products in an attention-grabbing way.